Acid blue 9
Product Name: Acid Blue 9
C.I. No.: 42090
CAS No.: 2650-18-2
Molecular Formula: C37H42N4O9S3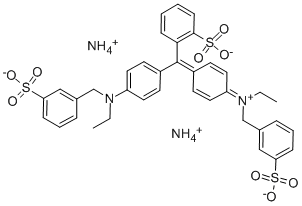 Molecular Weight: 787.90
Relative Name:
AACL Pure Blue 200%;ABCOL Blue N B;Acid Alizarine Cyanine Green G; Acid Blue 9 39003; Acid Blue E-A; Acid Bright Blue FCF; Acid Turquoise Blue AE; Acid Turquoise Blue HE; Acid Blue E-A; Acid Blue FCF;Acid Blue FG;
Shade: Colourful green light blue
Acid Blue 9 Dyeing Fastness(grade)
Standard

AATCC

ISO

Fiber

Wool

Wool

Soaping

Fading

4

2-3

Stain

4

3

Persperation Fastness

2

3

Oxygen bleaching

2

3

Light Fastness

1

3
Acid Blue 9 Properties and Applications:
Violet powder, soluble in water, in 90 ℃ water solubility of 50 g/L, soluble in ethanol. The strong sulfuric acid in orange, dilute yellowish later. The water solution is green light blue dye, add sodium hydroxide after it shows colorless, and you have a deep purple precipitation. Good levelness, white sex is better, for copper, iron ion sensitive, dyeing should pay attention, or influence colored light.
Application:
This product used for wool, silk,nylon with wool blended fabric dyeing and printing. Can also be used as a food dyes and organic pigments, also used for paper shading and anti-epidemic field, can also be used in leather color.
Package: 25KG/DRUM, CARTON BOX, BAG