Product Name: Acid Red 52
C.I. No.: 45100
CAS No.: 3520-42-1
Molecular Formula: C27H29N2NaO7S2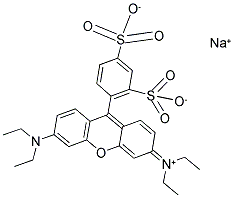 Molecular Weight: 580.65
Relative Name:
Acid Rose B.
Shade: Bright blue light pink.
Acid Red 52 Dyeing Fastness(grade)
Test Methods

AATCC

ISO

fiber

wool

wool

Alkali resistance

2

3~4

Carbonization

3~4

3

Chlorination discoloration

2

1

Oxygen bleaching

1

1

Alkali fluff

discolor

2

1

Staining

2

3

Acid fluff

discolor

—

3

Staining

—

1

potting

discolor

—

2

Staining

—

1

soaping

discolor

3

3~4

Staining

3

3

Perspiration

3

4

Sun exposure

2~3

3
Acid Red 52 Properties and Applications:
Appearance is dark red light brown powder. Soluble in water, aqueous solution is blue red, with fluorescence, also soluble in ethanol. It is orange in concentrated sulfuric acid, red after dilution. The aqueous solution plus sodium hydroxide is blue red.
Application:
1. Mainly used for dyeing wool, silk and nylon. It can be used for printing wool and silk fabrics as well as leather dyeing.
2. Wool dyeing is carried out in a strong acid bath, and the pH value of the dyeing solution is adjusted to 2~4. The addition of Jiayuanming powder as a retarding agent can improve the leveling property. The highest dyeing temperature is 90~100°C; silk and nylon dyeing can be It is carried out in an acetic acid or formic acid bath. When the wool is dyed in the same bath as the various fibers, the apparent color depth of the silk and nylon is similar to that of the wool, and the cellulose fibers are not stained.
3. Acid Red 52 dyed products are fluorescent bright red, very delicate, but the light fastness is only 2~3, which is sensitive to water stains, so it is only suitable for the dyeing of textiles with bright color and low fastness. .
4. Acid Red 52 and acid yellow 2G can produce bright red, and have fluorescence, which is brighter than the red color dyed with acid red G and acid yellow 2G. It is generally not suitable for color matching with acid yellow 2G. Use with other acid dyes, otherwise it will cause uneven coloring.
Package: 25KG/DRUM, CARTON BOX, BAG